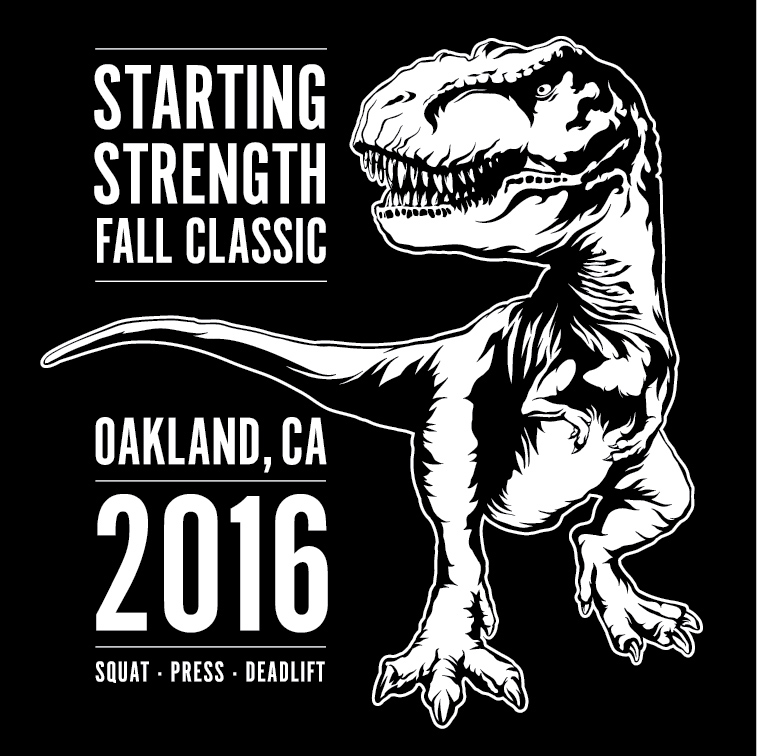 The 2016 Starting Strength Fall Classic will take place on Sunday, October 30th at Speed Power Strength in Oakland, CA and I've got details for you. Firstly, the anticipated schedule is shown below:
08:00 – Doors Open
09:00 – Attempt Cards Due at Judge's Table
09:15 – Rules Briefing
09:40 – Warm ups begin, Judges and Spotters Meeting
10:15 – Lifting commences
12:00 – Yep, still lifting
15:00 – Probably getting closer to done
16:00 – Probable awards ceremony
Generalities
When you register at the door, you will get an attempt card and your t-shirt or tank top. We do not have a weigh in for this meet. Instead, there will be a weigh out. More on that below. You still need to get your rack heights for the squat and press and note your opening attempts on the attempt card and present that card to the judge's table by 9:00. We've got over 40 lifters signed up and it takes a bit of time to adjust the rack and make sure it is the right height for you. I recommend arriving by 8:30 at the latest to give yourself enough time to get all of that done. If you don't turn in your attempt card by 9:00, you won't be able to lift.
The order in which you lift will be determined by your opening weights for the squat. This information will place you into your flight for the meet and, provided all goes according to plan, I will have the flights published for you right before the rules briefing. There will be three flights and everyone will complete all their squats before moving to presses and deadlifts.
Please read the rules in their entirety. I know that no one likes to read the rules, but these rules are actually riveting. Trust me. They are Hemmingway-esque in their compact and powerful prose.
Teams need to submit their roster in advance. This is to make sure that I award team points correctly. To help, I created a helpful Team Registration Form. Please fill it out and submit it to me prior to the meet. I only need one form per team, so have your coach or team captain fill it out.
This meet will be conducted in kilograms and the minimum increment for increases will be 1 kg. Pound to kilogram conversion charts will be available, but it is not a bad idea to have a calculator, or a conversion app for your phone handy if you are not fluent in kilograms.
After your last deadlift, a meet official will guide you back to the warm up area where you will weigh out. A sex appropriate official will be present in the event you need or want to disrobe to make weight. The weigh outs are being done to make it very difficult to cut weight for the meet. It also keeps people who are squatting on the platform at 104 kg from being part of the 100 kg class.
Attire and Equipment
This meet requires that you wear a singlet. I do this to make you suffer. An unintended benefit is that the judges can easily see whether you are squatting to depth and whether your joints are in extension at appropriate times in the lifts.
You need to have a t-shirt on for both the squat and the press. T-shirts need to worn underneath your singlet. If you selected a t-shirt instead of a tank top, you get one upon checking in. It even has a dinosaur on it. For the deadlift, you do not need a t-shirt.
Long socks are required for the deadlift. They must fully cover the calf to immediately below the knee. Soccer, baseball, rugby, etc… socks all fit the bill. We will not let you deadlift if your shins are not covered. This is for the protection of the other lifters as well as for your shins.
Shoes of some sort are required for all of the lifts. Deadlift slippers qualify as shoes, but you cannot just lift in your socks. All deadlifts will need to be pulled from a conventional stance with the legs inside the arms.
Awards
We have some cool prizes for the winners. As with last meet, the best male and female winner walk away with a stuffed Tyrannosaurus Rex.
Heavyweight, lightweight, and masters winners get smaller stuffed Triceratops. They are pretty cool, too.
Best female and male lifters will be determined via the Wilks equation. Same for best heavy, light, and masters lifters. Masters lifters are calculated via a combination of the Wilks and McCulloch coefficients. So much math! Weight class winners will be determined via total within the weight class and will be announced at the meet. Unfortunately, the only prize for winning your weight class is pride. You won't necessarily get to take home any dinos, unless you also win your division. Hey, if everyone gets a dino, then no one may as well get a dino. That stuffed T. Rex did not become the most coveted award in all of strength sports because I gave them away with abandon.
Speaking of awards, this meet will take place at the same time as several other locations across the US. We will combine our results, which actually means I will combine the results, and announce an overall winner for the men's and women's open and masters divisions. Those four strong individuals will be awarded a free spot to their choice of Starting Strength Seminar (a $945 value). The top scoring team from the combined meet will win a Rogue B&R bar. All of these prizes are thanks to generosity of Mark Rippetoe and The Aasgaard Company.
Closing Details
The competition will take place using an Eleiko powerlifting bar. This is a 29mm, 20 kilogram, bare steel bar that has a center knurl in addition to the knurl on the sides. No special squat or deadlift bars will be used. The weights used will be from a calibrated Eleiko competition kilogram set.
Spectators are welcome and admittance for them is free of charge.
Lastly, bring food. The meet will not be catered, nor will there be food for sale. There are a few restaurants nearby, one of which – The Buttercup Grill – is quite close,  but we will be in largely an industrial area. The gym will have bottled water freely available to meet participants.